Sunday, May 27, 2012
Soooo had all these plans of what I was going to do Saturday - had a list of yardwork that was never ending. My daughter was going to come over and lend a hand! Yippee!!!
The came the rain Friday night and it was too wet to work in the yard. My daughter came over and we went to the cemetery to place flowers on my parents and grandparents graves. On the way there we saw a couple men out plowing their field "Little House on the Prairie" style - with two draft horses and a hand plow! of course this was just outside the city limits and is not a site we see very often. We stopped, got out and watched the amazing, muscled horses pulling that plow against the strong earth. It was amazing. We snapped a few photos and went on our way.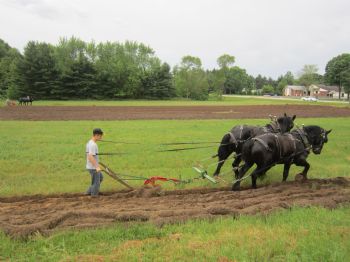 We got to the cemetery and I was amazed to see that the fountain that is in the section where my parents are was finally restored and repaired. It had been nonworking for at least 20 years. I'm sure they are resting better - because that fountain needing some tending would have driven them both crazy!!! Dad would have been tinkering with it a long time ago!!!
Got home and tackled a project in the kitchen, plaster patching, priming and painting - ugh!!! But now have the sense of satisfaction that the job is ALMOST done!!!
Feeling good, peaceful, tired and satisfied. Sometimes you just gotta go with the flow, accept what you are given and make something of it! Now the big decision is - do I go to the beach, or work in that yard? Enjoy!!!