Got up and got my littlest boy off to school. Took my pup for a walk and stepped it up a little today. Actually worked up a little sweat. Not sure if it was because of the faster movement or if it was because of the humidity levels or both. I'd like to think that I worked it! I usually do about 0.9 miles in 30 minutes. Today I did 1.1 miles in 25. So yeah, I'm going with working it!
See! Even she is tuckered out!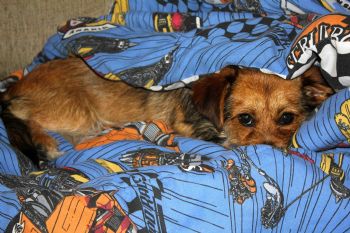 Had my 290 calorie breakfast consisting of No Sugar Added Applesauce, Yoplait Light Fat Free Apple Turnover Yogurt & Multi-Grain English Muffin. And broke out the challenge video for the day... If you don't already know this, a friend and I are doing the 28 bootcamp workout challenge together. If you'd like to give it a whirl here is the group/challenge page...
www.sparkpeople.com/mysp
ark/groups_individual.asp?
gid=42559
Today was a workout for your legs/lower body. Every week you repeat the workout from the week before. For me this was day #12 (or day #5 repeated). Here is the link to that video...
www.sparkpeople.com/reso
urce/fitness_articles.asp?
id=1087
Last week this video broke me. I had a break down in the middle of my living room. I believe, I referred to myself as " A big weeping mess curled up on my floor. " Yeah, that's what I said and that was what I was. Still, I did this workout again, even knowing that last week I could barely do it and it left me a withered, sobbing uncontrollable wreck. Today, not a single tear was shed. Don't get me wrong, it still hurt and I did indeed struggle, but today I kicked it's butt, not the other way around!


Feeling good I went on to do a little bit of dancing. I not only danced, I also danced around my kitchen as I put away clean dishes and straightened up. Worked up a good sweat too! Yes, I said GOOD sweat! I realize all of these years that I thought I hated sweating, it was really just sitting around being hot sweat. I like the sweat that I create by actually moving and being active. Who thought there was a difference? To me there is and I like it! Right now it doesn't take a whole lot to get me sweating but that is because well, yeah, I have never REALLY moved before. Not like this anyway.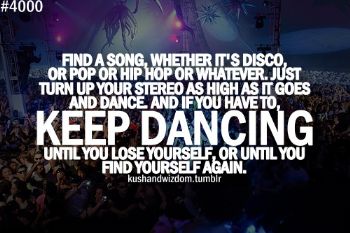 So, surprisingly enough, even though I thought it was impossible just last week because I was feeling so down, I am still dancing today! Here are the songs I listened to today!
These really got me moving! Wooo!
Waka Waka by Shakira
www.youtube.com/watch?v=
pRpeEdMmmQ0&ob=av2e
Let's Get Loud by Jennifer Lopez
www.youtube.com/watch?v=
Q91hydQRGyM&ob=av2n
Just Dance by Lady GaGa
www.youtube.com/watch?v=
2Abk1jAONjw&ob=av2n
Army of Love by Kerli
www.youtube.com/watch?v=
KhgvWLs2rsM&ob=av3e
Candy Man by Christina Aguilera
www.youtube.com/watch?v=
-ScjucUV8v0
Keep Dancing and having fun!