We were so excited about joining the group for a kayak adventure on the Wallkill River. This river flows through the National Wildlife Refuge beginning at Sussex, NJ. It flows north between two major rivers that flow south, the Hudson and the Delaware. The weather report called for mostly sunny skies with a 10% chance of late afternoon rain.
Prior to meet-up, the leader of the group informed us that the paddle launch is 10:30AM. Because we were anxious and not so familiar with the area, we arrived by 10AM. Shortly after we arrived and unloaded our kayaks, most of the group filed in, one gentleman with his hand-made canoe. It was the most beautiful piece of workmanship I had ever seen.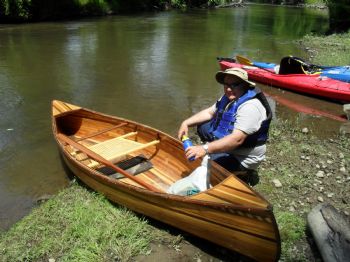 Because the leader arrived late, we launched at around 11:30AM. The journey up the river was amazing. The sounds of the Baltimore Orioles and other songbirds were a delight to listen to as we paddled. The beaver dams were huge! And the canopy formation from the trees hovering over the river made the paddle so serene and peaceful.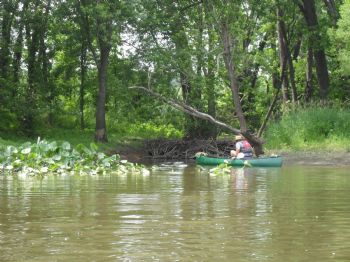 (Paddler checking out beaver dam.)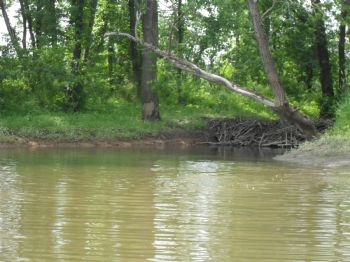 (beaver dam)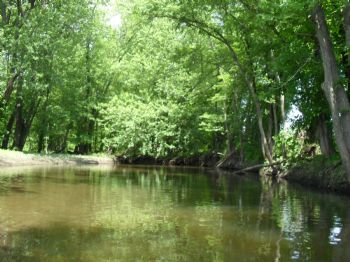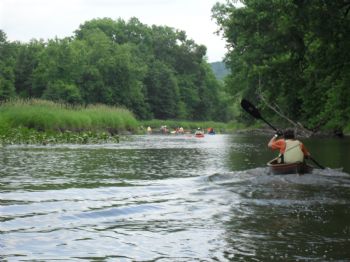 This was a nine-mile journey from point to point with several obstacles along the way. Sometimes we were able to paddle through brush. But then there were situations that forced us to climb over debris or go on shore to hike around downed trees, all while carrying our kayaks. Yes, this was challenging but not as exciting as it was to paddle through a couple of rapids while negotiating around obstacles.
As we entered the last quarter mile of the trip, the skies opened up and torrents of rain fell upon us. It was very difficult to see. In retrospect, had the leader arrived on time to launch the paddle as scheduled, we would have completed the trip in dry clothes and without fear of lightning danger. However, this drastic change in weather was a blessing in disguise because it made me realize the abilities I possess that were hidden all my life. I have come to realize during that brief quarter mile that I CAN DO IT --- no matter what I face!
This was actually a great experience and I learned so much about myself, kayaking, teamwork, life and the true meaning of commitment. What and when is your next adventure? Will you take on a leadership role? Become involved. Get active. Be committed to helping yourself and others to a healthy lifestyle. And have fun while doing it!
See you on the water!