Saturday, June 16, 2012
Got a lot of comments about the picture of me in my shorts from the last blog. When I sat down in that chair and had room to spare on either side, I had son snap the picture for proof. I was wearing shorts, and my legs looked okay. NEVER good, my legs always have been and always will be short and heavy. And now with the addition of some varicose veins, some bumps and some loose skin, it really is not pretty. But they seemed to look "okay" in that picture.
So for proof I do have lots and lots of excess skin, I just went upstairs, put on my bathing suit and snapped these awful pictures. Please don't judge me, this took a lot of courage!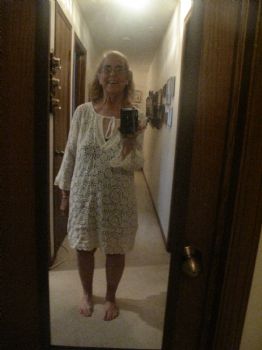 I bought a cover-up with long sleeves and it comes to my knees, so I don't have to expose my trouble spots until absolutely necessary!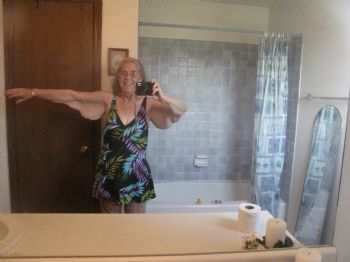 Here are my horrible batwing upper arms. I honestly don't think I've ever seen any that were any worse. Of course I haven't seen many...who shows those off? Only me, evidently. Is there any wonder I do not wear sleeveless or even short-sleeved tops. NOPE--all my tops have got to be elbow length or longer before I will go out in public.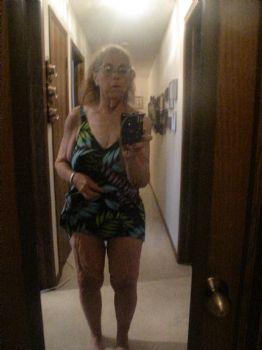 This picture is dark--but I think you can see the awful upper legs. Also no short-shorts in my future--but who really wants to see any 61-year old woman in short-shorts anyway?
I also bought a couple of sleeveless tops, but always wear them with some kind of cover-up. I don't mind the cover-ups, but sometimes I wish I could just be cool like everyone else who can wear sleeveless clothing.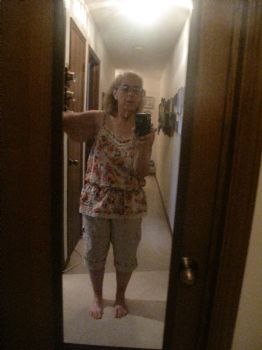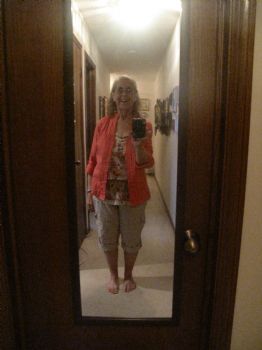 So that is the awful truth. Still I think it's better then when all that excess skin was filled to the stretching point with FAT!